Hundreds of dietary supplements are tainted with potentially harmful drugs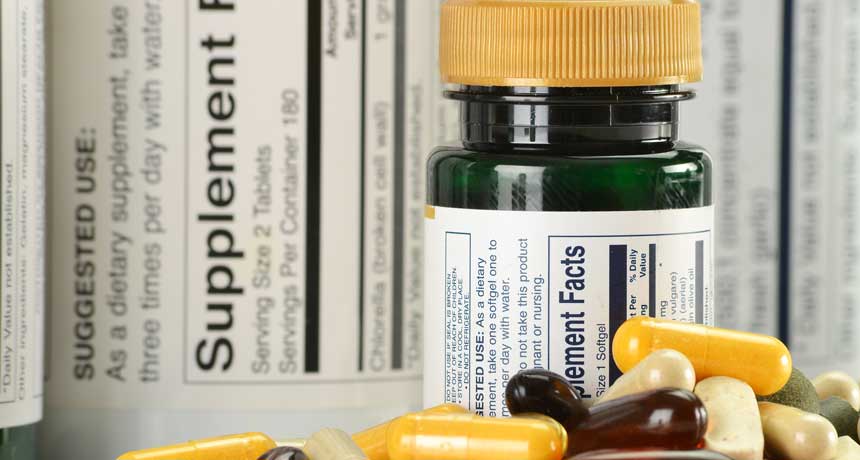 From 2007 to 2016, the U.S. Food and Drug Administration flagged nearly 800 over-the-counter dietary supplements as tainted with potentially harmful pharmaceutical drugs, a study shows. Fewer than half of those products were recalled by their makers, scientists found.
Researchers analyzed the FDA's public database of tainted supplements, identifying both the type of contaminating ingredients they contained and how the products were marketed. Most of these supplements, which are allowed to contain only dietary ingredients, included drugs such as steroids, the active ingredient in Viagra and a weight loss drug banned from the U.S. market eight years ago. The products had been marketed primarily for sexual enhancement, weight loss or muscle building, scientists report online October 12 in JAMA Network Open.
More than half of American adults have reported taking dietary supplements, such as vitamins, minerals and other specialty products. More than 85,000 supplements are estimated to be available in the United States, and the FDA says it cannot test all of them.
No No's
These pharmaceutical ingredients are not permitted in dietary supplements, but were found to be contaminating supplements.
Sildenafil
What it is: A medication that dilates blood vessels in the penis, and is the active ingredient in Viagra
Health issue: Can lower blood pressure to levels that are unsafe for people taking medications for diabetes, high blood pressure or high cholesterol
Supplement type: Sexual enhancement
Sibutramine
What it is: An appetite suppressant removed from the U.S. market in 2010
Health issue: Increased risk of heart attack or stroke
Supplement type: Weight loss
Phenolphthalein
What it is: A laxative removed from the U.S. market in 1999
Health issue: Potential carcinogen
Supplement type: Weight loss
Anabolic steroids
What they are: Chemicals related to the male sex hormone testosterone
Health issue: Associated with liver injury, kidney damage, heart attack and stroke
Supplement type: Muscle building
Aromatase inhibitors
What they are: A class of drugs that lower estrogen levels, and are used to treat breast cancer
Health issue: Associated with decreased bone growth, infertility, liver dysfunction
Supplement type: Muscle building
These supplements aren't subject to the same regulations, testing and approval process that are required for pharmaceutical drugs. But if the FDA identifies tainted supplements after they're on the market, the agency can issue public warnings or suggest the company voluntarily remove the product.
Whether that approach is effective raises questions, though, says general internist Pieter Cohen of Cambridge Health Alliance in Cambridge, Mass., who was not involved in the new work. Voluntary recalls don't necessarily mean a product is completely removed from shelves or that consumers become aware and stop using a product, Cohen's research has found.
And only 360 of the 776 supplements flagged as tainted from 2007 to 2016 were recalled, the study found. "What really jumped out at me," Cohen says, is that "when the FDA detects drugs in supplements, more than half the time the product isn't even recalled."
Supplement use does carry health risks. A 2015 study estimated that 23,000 emergency room visits each year are due to health problems related to dietary supplements. Of those, about 2,100 patients are hospitalized annually, commonly for symptoms related to heart trouble.
In 2013, 20 percent of drug-induced liver injury cases recorded in the Drug-Induced Liver Injury Network registry were caused by dietary supplements. That's up from 7 percent in 2004. Liver damage can be fatal or require a liver transplant. A 2013 report by the U.S. Centers for Disease Control and Prevention on 29 cases of liver injury found that 24 of those patients reported using a dietary supplement for weight loss.
"The law allows companies to advertise supplements as if they're good for your health, even if there's no evidence in humans that that's the case," Cohen says. He began studying dietary supplements after noting that his patients developed health problems, including panic attacks, chest pain and kidney failure, related to weight-loss supplements. One patient was suspended from his job when his urine tested positive for amphetamine; a chemical derivative of the drug was found in the weight-loss pills that he was taking.
Cohen's recommendation? Avoid supplements "that promise you anything."